RT8430 (34'-53')
*  The ability to safely operate a land roller is determined by both tractor horsepower and weight
Working Width
34'
41'
46'
53'
Transport Width
12' 6"
12' 6"
12' 6"
12' 6"
Transport Height
6'
6'
6'
6'
Transport Length
34' 8"
41' 6"
44'
47' 6"
Estimated Weight
20,585 lbs.
24,780 lbs.
25,800 lbs.
27,300 lbs.
Number of Rollers
3
3
3
3
Roller Diameter
42"
42"
42"
42"
Roller Wall Thickness
9/16"
9/16"
9/16"
9/16"
Tractor Horsepower*
120-150
150-180
160-190
180-210
Minimum Tractor Weight*
16,000 lbs.
18,000 lbs.
19,000 lbs.
20,000 lbs.
Weight Per Foot (lbs)*
605
604
561
515
Approx. Transport Tongue Weight
1,600 lbs.
1,600 lbs.
1,600 lbs.
1,600 lbs.
Transport Tires/Wheels (Center)
IF320/70R15 (2)
IF320/70R15 (4)
IF320/70R15 (4)
IF320/70R15 (4)
Transport Tires/Wheels (Part 1 Wing)
IF320/70R15 (4)
IF320/70R15 (4)
IF320/70R15 (4)
IF320/70R15 (4)
Hubs
HD812-2" (6)
HD812-2" (4)
HD812-2.5" (4)
HD812-2" (4)
HD812-2.5" (4)
HD812-2" (4)
HD812-2.5" (4)
RT8450 (62'-91', 42" drum)
*  The ability to safely operate a land roller is determined by both tractor horsepower and weight
Working Width
62'
68'
84'
91'
Transport Width
17' 3"
17' 3"
17' 3"
17' 3"
Transport Height
6'
6'
6'
6'
Transport Length
60' 8"
63' 8"
71' 8"
75' 2"
Estimated Weight
39,977 lbs.
41,832 lbs.
46,809 lbs.
48,890 lbs.
Number of Rollers
5
5
5
5
Roller Diameter
42"
42"
42"
42"
Roller Wall Thickness
9/16"
9/16"
9/16"
9/16"
Tractor Horsepower*
180-260
190-285
200-425
220-460
Minimum Tractor Weight*
25,000 lbs.
27,000 lbs.
35,000 lbs.
38,000 lbs.
Weight Per Foot (lbs)*
645
615
557
537
Approx. Transport Tongue Weight
1,200 lbs.
1,200 lbs.
1,200 lbs.
1,200 lbs.
Transport Tires/Wheels (Center)
IF320/70R15(4)
IF320/70R15 (4)
IF320/70R15 (4)
IF320/70R15 (4)
Transport Tires/Wheels (Part 1 Wing)
225/70R22.5 (4)
225/70R22.5 (4)
225/70R22.5 (4)
225/70R22.5 (4)
Transport Tires/Wheels (Part 2 Wing)
IF320/70R15 (4)
IF320/70R15 (4)
IF320/70R15 (4)
IF320/70R15 (4)
Hubs
HD812-2.5" (12)
HD812-2.5" (12)
HD812-2.5" (12)
HD812-2.5" (12)
RT8350 (84', 36" drum)
*  The ability to safely operate a land roller is determined by both tractor horsepower and weight
Working Width
84'
Transport Width
17' 3"
Transport Height
6'
Transport Length
71' 8"
Estimated Weight
42,293 lbs.
Number of Rollers
5
Roller Diameter
36"
Roller Wall Thickness
17/32"
Tractor Horsepower*
200-425
Minimum Tractor Weight*
35,000 lbs.
Weight Per Foot (lbs)*
503
Approx. Transport Tongue Weight
1,200 lbs.
Transport Tires/Wheels (Center)
IF320/70R15 (4)
Transport Tires/Wheels (Part 1 Wing)
225/70R22.5 (4)
Transport Tires/Wheels (Part 2 Wing)
IF320/70R15 (4)
Hubs
HD812-2.5" (12)
---
Related Products:
Hydraulic Fold SuperRoller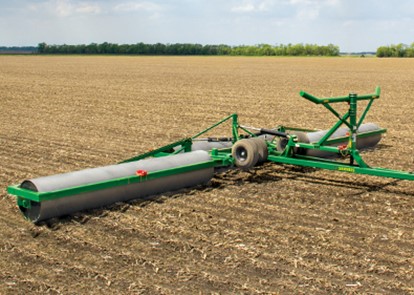 Land rollers can be used for managing rocks, increasing seed-to-soil contact or breaking down residue. Hydraulic folding models allow convenient folding and unfolding of the sections from the tractor cab.
Coil Packer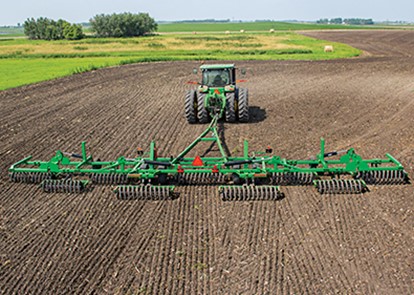 This tool uses coils to firm the soil and provide light tillage action. It leaves a herringbone pattern on the soil surface to reduce erosion concerns.
Rock Picker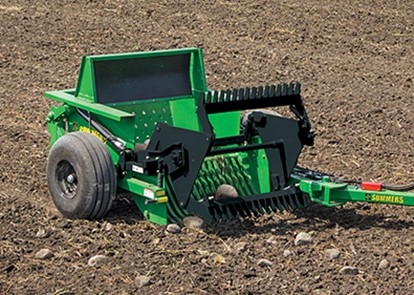 Have rocks in your fields? A continuous rock picker is the easiest way to remove them completely.
Rolling Chopper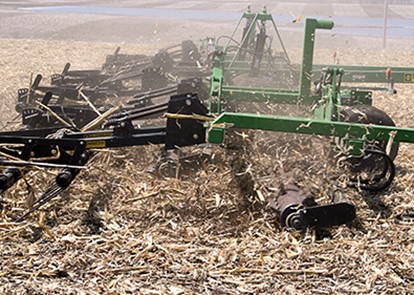 The hydraulic folding Rolling Chopper can be used by itself as a residue management tool, or it can trail behind other tillage equipment to achieve better residue sizing and more complete incorporation.