VRT Renegade®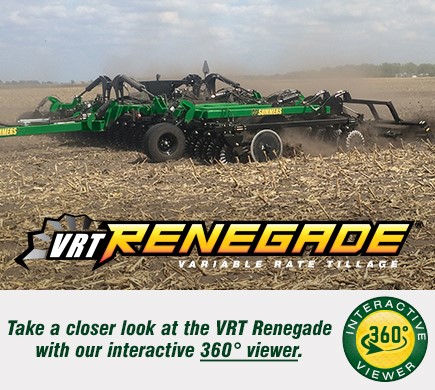 The Summers VRT Renegade is the most versatile tillage tool available. That's because it features a highly adjustable design with the ability to switch from minimal to aggressive tillage, and anywhere in between. Operators can control the blade angle, hydraulic hitch, tillage depth, gauge wheels, wing down pressure and rolling basket down pressure on the fly using an iPad with Summers iControl Implement Control technology.

This unmatched flexibility allows the VRT Renegade to do the work of multiple implements, including vertical tillage and high-speed disks, as well as many other conventional tillage implements. And, it can fit into virtually all tillage programs.
UNMATCHED FLEXIBILITY
Vertical Tillage
Set the blades of the VRT Renegade to a 0-degree angle for true vertical tillage results.
High-Speed Tillage
With a highly adjustable design and operation speeds up to 10+ miles per hour, the VRT Renegade is an ideal solution to cover ground in a hurry.
Conventional Tillage
Set the blades up to 19 degrees for aggressive tillage performance that mixes residue and creates a black field finish.
Residue Management
Adjust the VRT Renegade to perfectly size and incorporate any type of crop residue.
Minimum Tillage
Use a low blade angle to manage residue without moving a lot of dirt.
Seedbed Preparation
Create the exact seedbed you want by setting the blade angle, tillage depth, rolling basket down pressure and more.
Fertilizer Incorporation
Precisely adjust the tillage depth and blade angle to consistently incorporate fertilizer, manure or chemicals to the desired depth.
Spring Tillage
The VRT Renegade can be adjusted to achieve the ideal results in either wet or dry field conditions in the spring.
Fall Tillage
Size and incorporate heavy residue in the fall for fast decomposition.
Conservation Tillage
The VRT Renegade allows you to change aggressiveness on the fly as conditions dictate, only doing the amount of tillage you desire.
---
Related Products:
Supercoulter Samurai™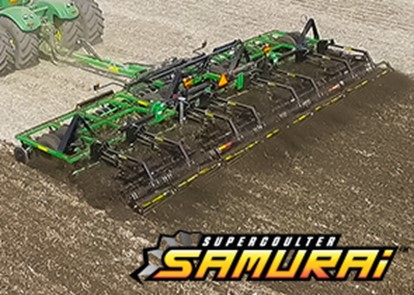 The Supercoulter Samurai offers many of the same benefits of the Supercoulter vertical tillage tool, but is designed to move more dirt, thanks to its aggressive Samurai blades.