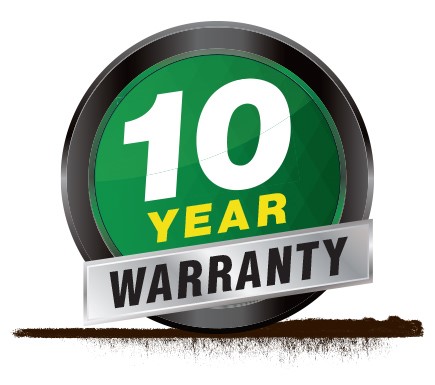 Why Gamble With Your Land Roller Investment?
For the 2018 through 2022 model years, we took our industry-leading 3-year warranty on land rollers and raised it to an unprecedented 10-year limited warranty. All you need to do to qualify for the 10-year coverage is to register your new land roller with Summers.
Take advantage of our 10-year limited warranty before this offer ends!

---
Don't Roll The Dice
Why did we do this? Because we don't think you should roll the dice with inferior land rollers. We understand that cheaper equipment options are available, but they will likely cost you more in the long run. We've heard many stories about farmers who took a chance on purchasing inferior land rollers, only for them to fall apart in the field…or not even make it to the field at all. Not only does this result in expensive repair work, but you could also miss the short window of time for rolling your soybeans.
We've Got Your Back
Rather than simply telling you that Summers land rollers are the best choice for you, we decided to put some skin in the game by introducing an unprecedented 10-year factory warranty. Although it sounds unrealistic for any piece of farm equipment to have such a long warranty, our employee-owned team is completely confident in the quality of our products. In fact, we don't think you'll ever need to file a warranty claim. However, if you have any issues with the Summers manufactured components of your land roller over the next 10 years, you can rest assured in our more than 50 years of manufacturing experience, knowing that we'll have your back. You have our word on it!

FULLY TRANSFERABLE
The benefits of our 10-year limited warranty don't end there. If you decide to trade your SuperRoller before the warranty coverage expires, the warranty can be transferred to a second owner for a fee. This ability will only strengthen the already strong resale value of Summers land rollers.

WHAT'S COVERED
The 10-year limited warranty applies to all components manufactured by Summers Manufacturing, and customers must register their products with Summers in order to qualify. Here is a breakdown of the percent of costs covered by year of ownership.
| YEARS | Coverage |
| --- | --- |
| Years 1-3 | 100% coverage on defective components |
| Years 4-6 | 75% coverage |
| Years 7-10 | 50% coverage |

Items such as tires, hydraulic cylinders and bearings are covered by the warranties of their respective manufacturers.
Limitations apply for land rollers used in rental operations.
---
What Makes Our Land Rollers Such a Sure Bet?
Durable Frame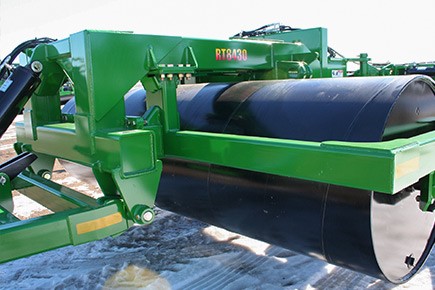 Thick steel frames are an indicator of durability on any piece of farm equipment, and land rollers are certainly no exception. That's why we built so much strength into the frames of our SuperRollers. They're designed to withstand the demands of many years of use.
Heavy-Duty Transport System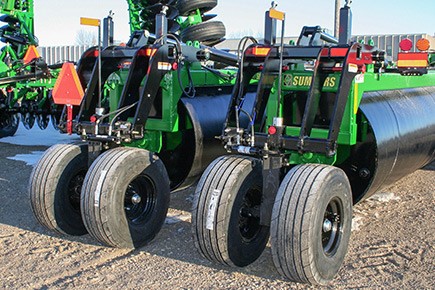 Heavy road travel can place a lot of stress on a land roller's transport system. In fact, we've heard of wheels actually breaking off competitive equipment during transport. To help prevent this from ever happening to you, we gave our SuperRollers the most robust transport system on the market. It's extra insurance against costly and dangerous roadside breakdowns — especially for our customers who are pulling them 50 miles or more to a field.
Thick & True Drums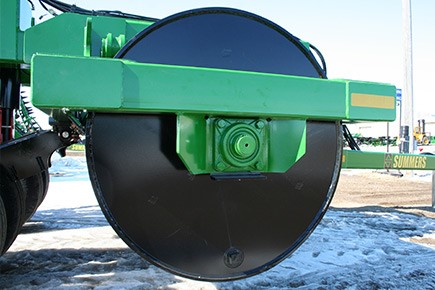 Not only do thick drum walls provide extra weight, but they also help maintain the integrity of the drum after many years of rolling, especially in tough rocky conditions. Our SuperRollers have either 9/16" or 17/32" thick drum walls. We manage the specifications very closely on our drums to ensure that they are true and run efficiently, providing a smooth roll and maximizing bearing life.
Reliable Bearings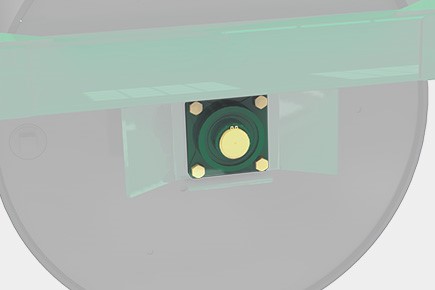 SuperRollers are equipped with the largest bearing shafts available. These 3-1/2 inch 1045 cold-rolled steel shafts are machined down to accommodate 2-1/2 inch relubricable bearings with ductile cast housings, providing long-lasting performance.
More Weight Per Foot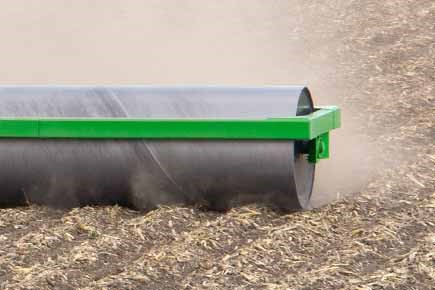 Summers SuperRollers lead the industry in weight per foot. Not only is the weight a sign of durability, but it also does a better job in the field. Don't confuse more weight with compaction, though. A 44,000-pound, 84-foot land roller only exerts a little more than 3 psi — less than a farmer walking across the field!