Summers Unveils New 8-Bar Superharrow
With our new 8-bar harrow, you can do 60 percent more work than standard 5-bar harrows.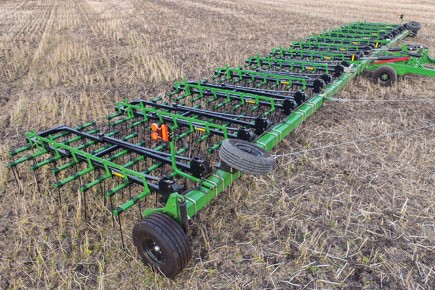 Producing 60 percent more work compared to harrows with just five bars, it's ideal for busting clods, demolishing root balls and preparing the seedbed for planting. With 1/2-inch diameter teeth and eight full rows of harrows, the 8-Bar Superharrow breaks up more residue and clumps in a single pass compared to a 5-bar harrow, allowing more surface area to be exposed for expedited decomposition. It is available in 36-, 48-, 60-, 72- and 84-foot widths. 

Bar spacing is 16 inches from center to center for optimum residue flow. Hydraulic cylinders on the toolbar and wing wheels allow on-the-go adjustment of down pressure to accommodate different soil and residue conditions. Down pressure to the springs has been increased to ensure good engagement of all eight rows of tines; however the down pressure is adjustable to ensure the proper amount of material flow. Tooth angle is also adjustable up to 45 degrees from vertical thanks to a spring-loaded adjustment lever. The 8-Bar Superharrow's tine spacing is 1-1/2-inches, which ensures no ground is missed and results in a higher percentage of clumps being broken up compared to similar harrows with just five bars.