Don't Let Ruts Ruin Yield Potential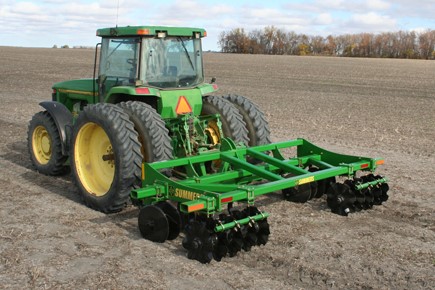 Most farmers understand the need to manage ruts in fields, but many don't understand just how costly those leftover tracks from combines, grain carts, sprayers or spring planting can be. In fact, a study conducted by the University of Minnesota found a 17 percent yield loss by planting corn into rutted fields. That means farmers need to be more aware of the ruts they create and understand the best practices for removing them.

When to Remove Ruts
According to John Nowatzki, Extension Ag Machine Systems Specialist for North Dakota State University, ruts don't have to be very deep before they start impacting yield. "Ruts can impact yield if they are only a few inches deep," he said. "They particularly affect crop germination and emergence, so tillage may be necessary to smooth surface ruts."
Travis Westlind, an engineer for Summers Manufacturing who also operates a farm near Devils Lake, North Dakota, agrees with this statement, despite the fact he practices minimum tillage. "We start using tillage to remove ruts as soon as they get to be 3 or 4 inches deep."

In addition to the negative effects on crop emergence, ruts may cause harvestability issues at the end of the season, especially in low-to-the-ground crops. "It's difficult to combine soybeans with your header on the ground when there are ruts," says Westlind.
How to Remove Ruts
The best tool for rut removal usually comes down to personal preference, but this decision is typically more difficult among no tillers or minimum tillers like Westlind. "Guys doing full conventional tillage don't have to worry about it so much because they're probably going to work the ruts out in the fall with a chisel plow anyways," he said.
Westlind typically uses vertical tillage on his farm. However, he says that vertical tillage generally isn't the best option for rut removal, since tools like his Supercoulter don't move soil horizontally and therefore aren't ideal for filling in ruts. As a result, he uses a 3RT 2010, which is a specialized tool for rut removal. It has two sets of disks, which can be configured to cover wheel tracks that are spaced 90, 120 or 132 inches apart. This allows Westlind to fill and smooth his ruts without doing any unnecessary tillage.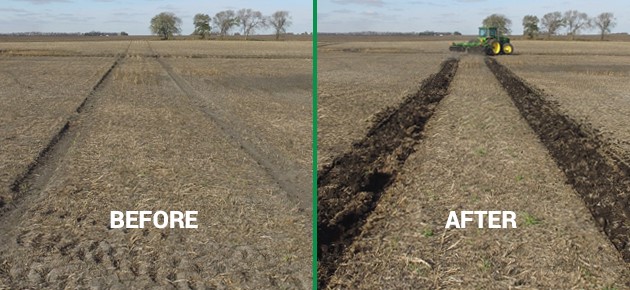 How to Avoid Ruts
The best way to manage ruts, according to Nowatzki, is to prevent them from happening in the first place. "Try to avoid activities that cause ruts," he urged, since ruts can lead to subsurface compaction issues, which aren't so easily fixed.

Westlind also encourages farming practices that reduce ruts and compaction. "On my farm I have tracks on everything I can put them on," he said. "On everything else, I buy the biggest tires I can find."