Sold on Summers

Minnesota farmer relies on company's customer commitment, reliability.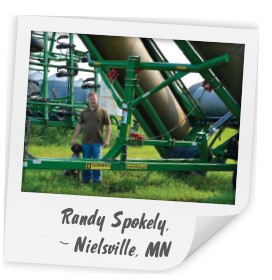 Randy Spokely's first experience with Summers Manufacturing equipment was in the early 90s, when a Hillsboro, N.D. implement dealership dropped off a Diamond Disk to demo at his family farm in Nielsville, Minn. They never got it back.

Spokely, who farms with his brother, father and uncle on 5,000 acres of fertile Red River Valley ground, has continued to add Summers equipment. The products aren't only tough, but Summers' customer service is second to none.

"Minimizing breakdowns is huge. We have a lot less downtime," Spokely said. "The few hiccups
we do have are generally minor things that take
a jack and a few minutes to fix."
After the Diamond Disk, Spokely purchased a Summers chisel plow that was used for several years until he upgraded tractors. This meant the need for a bigger plow, and he opted for a John Deere. But after the installed harrows failed in less than a year, Spokely swapped them out for Summers Mounted Harrows.

Although these were much more robust, the unwieldy clay soils delivered a beating. Springs began to randomly fail on the harrows, so Spokely got in touch with the Summers service department. He was blown away by their responsiveness.

"They were concerned, and promised to look into the issue immediately," Spokely said. He mentioned that Summers took very good care of the issue.

Spokely's most recent Summers purchase is a hydraulic-fold three-section 45-foot SuperRoller. He rented land rollers for years to prepare ground pre- and post-harvest, but decided on ownership
to mitigate travel expense. All his land is rolled, which greatly assists in flattening turned-up end rows and makes combining a breeze. Spokely even rents to neighbors, making his return-on-investment even faster.

Spokely hasn't stopped collecting Summers equipment. A SuperWeeder will be added to the rotation by the end of the year to take the place of an S-tine machine, which is too small. He's also quick to recommend Summers because of their knack of going out of the way to help customers, as well as their field-tested tough designs.

"We let people know that we put fuel stabilizer in our welder generator because it never gets used," Spokely added.