Blosser Wins Rolling Baskets at Farm Progress
When John Blosser first heard about Summers Rolling Baskets with patented internal mud scrapers, he was skeptical at the claim that they wouldn't gum up in muddy conditions. After all, he'd dealt with rolling baskets before on his nearly 1,000 acres of Morton, Illinois farmland.

"Cleaning a set packed with mud is a nightmare," he said. "It's a half-day job."

Still, he was in the market for something to take care of the troublesome clods that popped up in his black dirt Illinois fields. When the 2015 Farm Progress Show rolled around to Decatur, Illinois, Blosser decided to swing by the Summers booth and learn how they might benefit his operation. Ironically, a Win Rolling Baskets promotion was going on, where some lucky farmer would be picked to outfit a piece of tillage equipment with Summers Rolling Baskets.

"I mentioned to the rep that I was interested in possibly buying some, and he said, 'Well, you better sign up – you just might win," Blosser recalled.

A few weeks later while combining beans, Blosser checked his email. There was a message from Summers. He'd won the rolling baskets.

"I darn near fell out of the tractor," Blosser said. "I never win anything."

A Summers technician soon visited Blosser and installed the Rolling Baskets onto a Case IH 690 chisel plow. The rolling baskets did the trick in managing residue in a harvested cornfield, but the conditions were relatively dry. Any rolling basket might have done an equally sufficient job.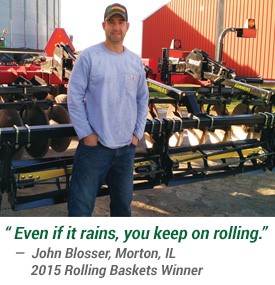 He finally put the rolling baskets to the test after nearly an inch of rain fell overnight. The next morning, Blosser hit the field and started chiseling in the black dirt gumbo that would plug an ordinary basket before it reached the other side.

The rolling baskets never skipped a beat.

"There was a bit of mud on the blades, but it didn't ball up or anything," he said. "And after the mud dried, it just cracked and fell off."

Blosser has used other rolling baskets on tillage equipment for the past eight years, but he's been so impressed with Summers Rolling Baskets that he plans to purchase another set before fall tillage season.

"I have a 5-shank chisel plow that has harrows on it at the moment," Blosser said. "I'm selling the harrows and buying Summers Rolling Baskets."

"They're the first rolling baskets that haven't given us headaches," he added. "Even if it rains, you keep on rolling."