DK Diamond Disk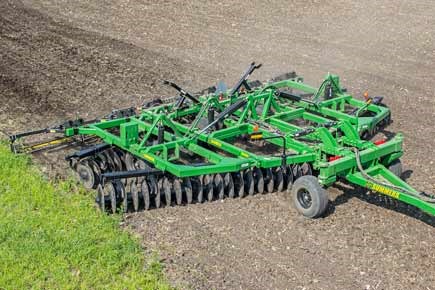 When the first DK Diamond Disk was introduced in 1984, it changed the way farmers thought about tillage. Unlike traditional X-frame implements, it didn't need feathering disks, allowing it to produce clean cuts along field edges and make turns with the disks still in the ground. Additionally, the unique diamond shape helped eliminate the ridging, skipping, gouging and rock damage that are common with other tillage tools. The DK Diamond Disk uses 26-inch concave disks for maximum soil mixing.
Read More
-An In-Depth Look at the Diamond Disk
Applications: fall tillage, fall residue management, conventional tillage, seedbed preparation
---
Related Products:
DT Diamond Disk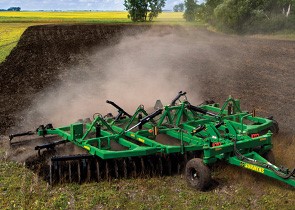 The DT Diamond Disk has the same frame as the DK series, but uses 25-inch notched disks with less concavity. It's an ideal alternative for use in heavy residue and wet conditions.
DiskChisel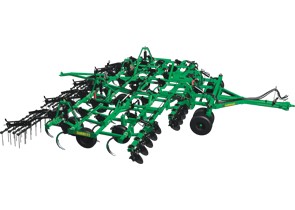 Mix residue while breaking compaction. The DiskChisel features one row of individually hub-mounted disk blades, followed by four rows of chisel shanks.
CoulterChisel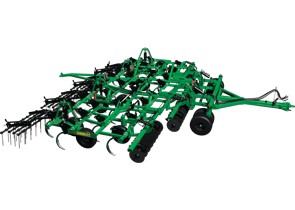 Try the CoulterChisel for less aggressive mixing. It has gang-mounted coulter blades in the front for sizing residue, followed by four rows of chisel shanks for breaking compaction.
VRT3530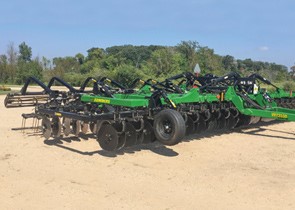 Adjust the front and rear disk on the go to fine-tune aggressiveness for particular field conditions. The result is an excellent field finish, even at fast speeds and depths greater than 6 inches.