CC2815 (16'-20')
*  8-bolt HD optional
** IF320/70R15 optional
Working Width
16'
20'
Transport Width
18' 9"
20' 6"
Transport Height
8' 6"
8' 6"
Total Shanks
16
20
Shank Spacing
12"
12"
Blade Spacing
12"
12"
Hubs, Wheel
6-bolt, HD*
6-bolt, HD*
Tires
IF280/70R15**
IF280/70R15**
Rear Hitch
Optional
Optional
Estimated Weight
12,200 lbs.
13,840 lbs.
Approx. Engine HP
160-240
200-300
CC2835 (24'-28')
*  8-bolt HD optional
** IF320/70R15 optional
Working Width
24'
26'
28'
Transport Width
17' 6"
17' 6"
17' 6"
Transport Height
11' 6"
12'
13' 3"
Total Shanks
24
26
28
Shank Spacing
12"
12"
12"
Blade Spacing
12"
12"
12"
Hubs, Center
6-bolt, HD*
6-bolt, HD*
6-bolt, HD*
Hubs, Wing
6-bolt, HD*
6-bolt, HD*
6-bolt, HD*
Tires, Center
IF280/70R15**

IF280/70R15

**

IF280/70R15

**
Tires, Wing

IF280/70R15

**

IF280/70R15

**

IF280/70R15

**
Rear Hitch
Optional
Optional
Optional
Estimated Weight
20,070 lbs.
20,660 lbs.
21,380 lbs.
Approx. Engine HP
240-360
260-390
280-420
IF280/70R15​
CC2830 (32'-40')

* 8-bolt HD optional
** IF320/70R15 optional

Working Width
32'
36'
40'
Transport Width
19'-6"
19'-6"
19'-6"
Transport Height
12' 8"
14' 6"
16' 3"
Total Shanks
32
36
40
Shank Spacing
12"
12"
12"
Blade Spacing
12"
12"
12"
Hubs, Center
6-bolt, HD*
6-bolt, HD*
8-bolt, HD
Hubs, Wing
6-bolt, HD*
6-bolt, HD*
8-bolt, HD
Hubs, Gauge Wheels
6-bolt, HD
6-bolt, HD
6-bolt, HD
Hubs, Caster Wheels
8-bolt, HD
8-bolt, HD
8-bolt, HD
Tires, Center

IF280/70R15

**

IF280/70R15

**

IF280/70R15

**
Tires, Wing

IF280/70R15

**

IF280/70R15

**

IF280/70R15

**
Tires, Gauge Wheels

IF280/70R15

IF280/70R15

IF280/70R15

Tires, Caster Wheels
IF280/70R15
IF280/70R15
IF280/70R15
Rear Hitch
Standard
Standard
Standard
Estimated Weight
20,628 lbs.
22,334 lbs.
26,101 lbs.
Approx. Engine HP
350-450
350-500
400-550
---
Related Products:
DiskChisel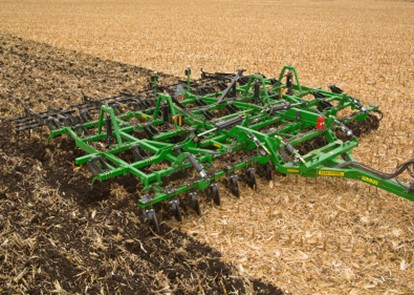 The DiskChisel is a combination tillage tool with individually hub-mounted disk blades, four ranks of chisel shanks, and a 4-bar harrow.
Superchisel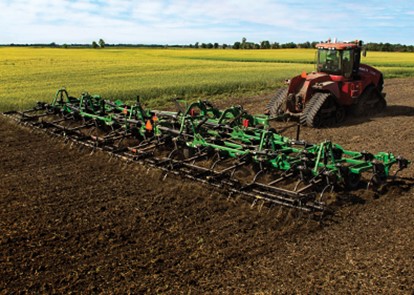 The Superchisel is a high-performance chisel plow with four ranks of aggressive chisel shanks that are spaced for maximum residue flow.
DK Diamond Disk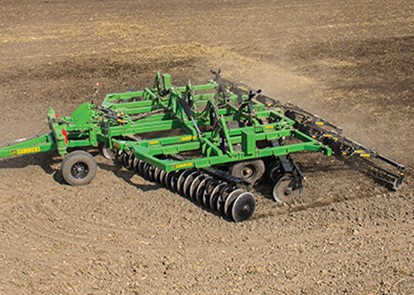 The DK Diamond Disk is a conventional tillage tool with many benefits over standard X-frame disks. It's equipped with 26-inch concave disks for aggressive soil mixing.
DT Diamond Disk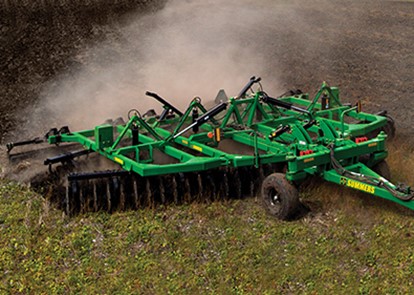 The DT Diamond Disk is a cross between conventional and vertical tillage. It's notched disks are ideal for residue chopping and mixing, making it a versatile tool for a variety of tillage strategies.